Queen's Speech Analysis: The Return Of Compassionate Conservatism?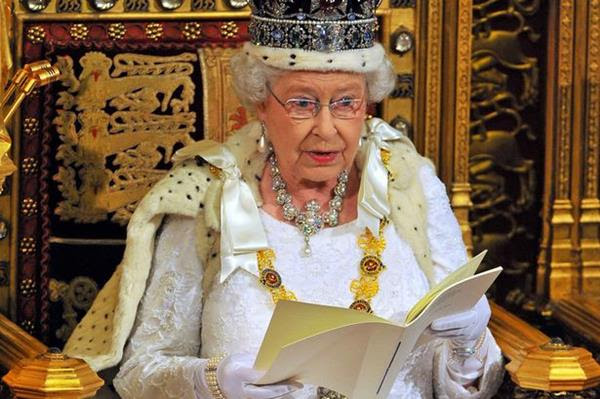 Road closures in Westminster, a parade of one hundred strong Guards of Honour and a flurry of camera flashes, signal one thing in the Parliamentary calendar; the official State Opening of Parliament.
This morning, the Queen delivered her speech for the 65th time in her reign, announcing the government's proposed new laws. Not, of course, before Labour veteran Dennis Skinner got in his annual jibe, shouting "Hands off the BBC", as Black Rod summoned MPs to the House of Lords.
Described as a "One Nation Queen's Speech from a progressive, One Nation, Conservative Government", Cameron had promised that this speech would deliver a "clear programme of social reform." Indeed, with prison reforms, surveillance and schools central on the agenda, you could be forgiven for thinking it was 2010 all over again.
In fact if it felt like a rerun, it's because, well, much of it is. There is indeed a noticeable dearth of 'new' policy this year. The reason of course is Europe. Given the result of the referendum is still so uncertain, it therefore makes who leads the government for the rest of the year even less certain. As such there's little point laying out a comprehensive programme of government at this stage.
Nonetheless there has already been much in the political media about Prime Minister David Cameron's attempts behind closed doors to water down a number of the more controversial policy proposals across various departments, and indeed re-attempt to soften the Conservatives' public image. With public divisions and threats of backbench rebellions, he'll want to show his government in a benevolent light.
Touted as the "biggest prison shake-up in England and Wales since Victorian times", the Queen announced plans for the first six semi-autonomous "reform prisons". HMP Wandsworth is just one of these institutions that will see governors given new powers over key aspects of management. There are also plans to pilot the use of satellite tracking tags, which will monitor the movements of offenders using GPS technology; theoretically allowing prisoners to become weekend inmates.
The Queen's Speech also confirmed that the Department for Education will back down over academies and an Education for All Bill will promote the goal of making every school an academy, though with no compulsion for local authorities to do so.
The Queen's Speech notably included measures to tackle tax evasion, a move that David Cameron no doubt hopes will sate the public's appetite for tough action against wealthy individuals who exploit loopholes (especially in light of the highly damaging Panama Papers).
The most noteworthy moment of the whole ceremony however happened in the corridors of Houses of Parliament before the Queen's speech had even begun. Camera's caught the awkward moment when David Cameron's attempts at exchanging pleasantries were snubbed by Jeremy Corbyn, as he repeatedly ignored the Prime Minister's chit-chat.
Roz Platt, Account Manager