Politicians and public have different priorities, exclusive JBP research reveals
The two main political parties appear to be out of touch with the general public on major policy areas as General Election year is nearly upon us.
Research commissioned by JBP amongst existing and future MPs, as well as members of the public, reveals a gulf in attitudes when it comes to the big policy issues such as health, immigration and housing.
Opinions particularly differ over priorities for NHS and social care funding, where members of the public (31%) were most likely to feel that hospitals should be the main focus, whilst MPs (59%) and prospective parliamentary candidates (42%) prioritise more funding for elderly care.
While other research shows the public placing immigration as an important national issue, this polls demonstrates that it is far less of a hot-topic in local areas, although perhaps the politicians have not picked this up. Nine in ten (90%) Conservative and 45% of Labour future and existing MPs rate immigration as a top concern for their local area compared to 34% of the public.
There is a similar disparity on housing where only 38% of the public had concerns compared to Labour (60%) and Conservatives (61%)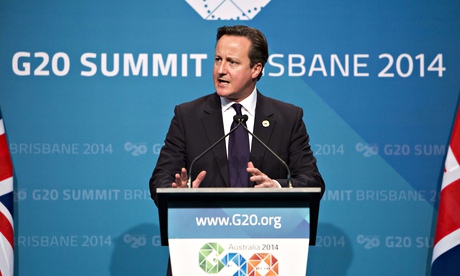 David Cameron at the G20 summit. Photograph: Glenn Hunt/AFP/Getty Images
There was far stronger opposition by the Tories to new developments in their local area involving wind farms, waste facilities and power stations compared to Labour and the public, whilst Labour was the most supportive when it came to rail and road transport developments. The support and opposition level for supermarkets was similar across the board.
Commenting on the findings, Head of Public Policy at JBP James Turgoose said:
"It is significant that the next generation of MPs believes adequate funding for elderly care is much more important than investing in new hospitals. Perhaps this is because of a slow realisation amongst politicians in recent years that funding for elderly care – in the context of an ageing population – is one of the most pressing issues that the next Government will face.
"Or it could be a more cynical demonstration that those aspiring to be our next generation of elected politicians know that the elderly are much more likely to vote at the General Election. It will be interesting to see how many MPs are brave enough to make the public case for more funding to be divested away from hospitals and towards elderly care".
"Furthermore, despite all the attention given to it in policy circles at present, it would appear that immigration is far lower down voters' priorities in their local area, than politicians think. This might make the main parties think twice as they seek to head off the rise of UKIP".
Katharine Peacock, Managing Director of ComRes, said:
"A popular part of modern political campaigning is the idea of "wedge issues" – areas to trap your opponent on the wrong side of public opinion. While on wind farms overwhelming Conservative opposition is in harsh contrast to broad public support, Labour equally find themselves at odds with public sentiment on government intervention to combat unhealthy lifestyles
There is clearly a plethora of such issues that either main party could find themselves squeezed on in the run up to May 2015. The challenge will of course be harnessing their support base on key policies and turning this into votes."
For further information about the survey and to receive a summary of the poll please contact James Hargrave via james.hargrave@jbp.co.uk or 0203 2770074 and join the debate on Twitter #PoliticiansVsPeople.